Warning
: SimpleXMLElement::__construct(): Entity: line 1: parser error : Space required after the Public Identifier in
/www/htdocs/w00e81ab/schaerfer/wp-content/plugins/amazonsimpleadmin/lib/Asa/Service/Amazon/Request/Abstract.php
on line
65
Warning
: SimpleXMLElement::__construct(): <!DOCTYPE HTML PUBLIC "-//IETF//DTD HTML 2.0//EN"> in
/www/htdocs/w00e81ab/schaerfer/wp-content/plugins/amazonsimpleadmin/lib/Asa/Service/Amazon/Request/Abstract.php
on line
65
Warning
: SimpleXMLElement::__construct(): ^ in
/www/htdocs/w00e81ab/schaerfer/wp-content/plugins/amazonsimpleadmin/lib/Asa/Service/Amazon/Request/Abstract.php
on line
65
Warning
: SimpleXMLElement::__construct(): Entity: line 1: parser error : SystemLiteral " or ' expected in
/www/htdocs/w00e81ab/schaerfer/wp-content/plugins/amazonsimpleadmin/lib/Asa/Service/Amazon/Request/Abstract.php
on line
65
Warning
: SimpleXMLElement::__construct(): <!DOCTYPE HTML PUBLIC "-//IETF//DTD HTML 2.0//EN"> in
/www/htdocs/w00e81ab/schaerfer/wp-content/plugins/amazonsimpleadmin/lib/Asa/Service/Amazon/Request/Abstract.php
on line
65
Warning
: SimpleXMLElement::__construct(): ^ in
/www/htdocs/w00e81ab/schaerfer/wp-content/plugins/amazonsimpleadmin/lib/Asa/Service/Amazon/Request/Abstract.php
on line
65
Warning
: SimpleXMLElement::__construct(): Entity: line 1: parser error : SYSTEM or PUBLIC, the URI is missing in
/www/htdocs/w00e81ab/schaerfer/wp-content/plugins/amazonsimpleadmin/lib/Asa/Service/Amazon/Request/Abstract.php
on line
65
Warning
: SimpleXMLElement::__construct(): <!DOCTYPE HTML PUBLIC "-//IETF//DTD HTML 2.0//EN"> in
/www/htdocs/w00e81ab/schaerfer/wp-content/plugins/amazonsimpleadmin/lib/Asa/Service/Amazon/Request/Abstract.php
on line
65
Warning
: SimpleXMLElement::__construct(): ^ in
/www/htdocs/w00e81ab/schaerfer/wp-content/plugins/amazonsimpleadmin/lib/Asa/Service/Amazon/Request/Abstract.php
on line
65
Warning
: SimpleXMLElement::__construct(): Entity: line 1: parser error : Space required after the Public Identifier in
/www/htdocs/w00e81ab/schaerfer/wp-content/plugins/amazonsimpleadmin/lib/Asa/Service/Amazon/Request/Abstract.php
on line
65
Warning
: SimpleXMLElement::__construct(): <!DOCTYPE HTML PUBLIC "-//IETF//DTD HTML 2.0//EN"> in
/www/htdocs/w00e81ab/schaerfer/wp-content/plugins/amazonsimpleadmin/lib/Asa/Service/Amazon/Request/Abstract.php
on line
65
Warning
: SimpleXMLElement::__construct(): ^ in
/www/htdocs/w00e81ab/schaerfer/wp-content/plugins/amazonsimpleadmin/lib/Asa/Service/Amazon/Request/Abstract.php
on line
65
Warning
: SimpleXMLElement::__construct(): Entity: line 1: parser error : SystemLiteral " or ' expected in
/www/htdocs/w00e81ab/schaerfer/wp-content/plugins/amazonsimpleadmin/lib/Asa/Service/Amazon/Request/Abstract.php
on line
65
Warning
: SimpleXMLElement::__construct(): <!DOCTYPE HTML PUBLIC "-//IETF//DTD HTML 2.0//EN"> in
/www/htdocs/w00e81ab/schaerfer/wp-content/plugins/amazonsimpleadmin/lib/Asa/Service/Amazon/Request/Abstract.php
on line
65
Warning
: SimpleXMLElement::__construct(): ^ in
/www/htdocs/w00e81ab/schaerfer/wp-content/plugins/amazonsimpleadmin/lib/Asa/Service/Amazon/Request/Abstract.php
on line
65
Warning
: SimpleXMLElement::__construct(): Entity: line 1: parser error : SYSTEM or PUBLIC, the URI is missing in
/www/htdocs/w00e81ab/schaerfer/wp-content/plugins/amazonsimpleadmin/lib/Asa/Service/Amazon/Request/Abstract.php
on line
65
Warning
: SimpleXMLElement::__construct(): <!DOCTYPE HTML PUBLIC "-//IETF//DTD HTML 2.0//EN"> in
/www/htdocs/w00e81ab/schaerfer/wp-content/plugins/amazonsimpleadmin/lib/Asa/Service/Amazon/Request/Abstract.php
on line
65
Warning
: SimpleXMLElement::__construct(): ^ in
/www/htdocs/w00e81ab/schaerfer/wp-content/plugins/amazonsimpleadmin/lib/Asa/Service/Amazon/Request/Abstract.php
on line
65
Warning
: SimpleXMLElement::__construct(): Entity: line 1: parser error : Space required after the Public Identifier in
/www/htdocs/w00e81ab/schaerfer/wp-content/plugins/amazonsimpleadmin/lib/Asa/Service/Amazon/Request/Abstract.php
on line
65
Warning
: SimpleXMLElement::__construct(): <!DOCTYPE HTML PUBLIC "-//IETF//DTD HTML 2.0//EN"> in
/www/htdocs/w00e81ab/schaerfer/wp-content/plugins/amazonsimpleadmin/lib/Asa/Service/Amazon/Request/Abstract.php
on line
65
Warning
: SimpleXMLElement::__construct(): ^ in
/www/htdocs/w00e81ab/schaerfer/wp-content/plugins/amazonsimpleadmin/lib/Asa/Service/Amazon/Request/Abstract.php
on line
65
Warning
: SimpleXMLElement::__construct(): Entity: line 1: parser error : SystemLiteral " or ' expected in
/www/htdocs/w00e81ab/schaerfer/wp-content/plugins/amazonsimpleadmin/lib/Asa/Service/Amazon/Request/Abstract.php
on line
65
Warning
: SimpleXMLElement::__construct(): <!DOCTYPE HTML PUBLIC "-//IETF//DTD HTML 2.0//EN"> in
/www/htdocs/w00e81ab/schaerfer/wp-content/plugins/amazonsimpleadmin/lib/Asa/Service/Amazon/Request/Abstract.php
on line
65
Warning
: SimpleXMLElement::__construct(): ^ in
/www/htdocs/w00e81ab/schaerfer/wp-content/plugins/amazonsimpleadmin/lib/Asa/Service/Amazon/Request/Abstract.php
on line
65
Warning
: SimpleXMLElement::__construct(): Entity: line 1: parser error : SYSTEM or PUBLIC, the URI is missing in
/www/htdocs/w00e81ab/schaerfer/wp-content/plugins/amazonsimpleadmin/lib/Asa/Service/Amazon/Request/Abstract.php
on line
65
Warning
: SimpleXMLElement::__construct(): <!DOCTYPE HTML PUBLIC "-//IETF//DTD HTML 2.0//EN"> in
/www/htdocs/w00e81ab/schaerfer/wp-content/plugins/amazonsimpleadmin/lib/Asa/Service/Amazon/Request/Abstract.php
on line
65
Warning
: SimpleXMLElement::__construct(): ^ in
/www/htdocs/w00e81ab/schaerfer/wp-content/plugins/amazonsimpleadmin/lib/Asa/Service/Amazon/Request/Abstract.php
on line
65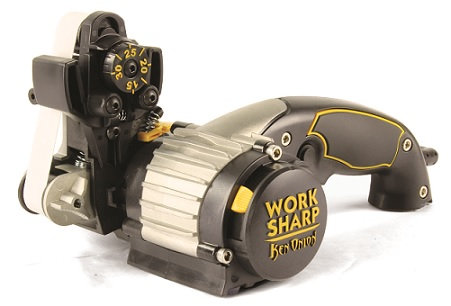 Der "Work Sharp Ken Onion" ist eine weitere Variante und sozusagen der größere Bruder des beliebten Knife & Tool Sharpeners von Work Sharp. Dieser elektrische Messerschärfer, oder besser gesagt Messer- und Werkzeugschärfer eignet sich zum Schärfen nahezu aller erdenklichen Messer und Werkzeuge.
Zu beachten ist, dass es sich bei der Ken Onion Edition nicht um das Nachfolgemodell des bereits erwähnten Work Sharp Knife and Tool Sharpener handelt. Dieser elektrische Messerschärfer, welcher in Zusammenarbeit mit dem weltweit bekannten Messerhersteller Ken Onion entwickelt wurde, bietet dem Nutzer einige zusätzliche Funktionen und Möglichkeiten, welche jedoch auch etwas mehr Übung und Erfahrung im Umgang mit Messerschärfern erfordern.
Wie bereits erwähnt, können mit dem Work Sharp Ken Onion verschiedenste Werkzeuge und Messer gschärft werden. Im Gegensatz zum Basismodell, bei welchem fixe Messerführungsaufsätze für die Schleifwinkel 20 Grad (Küchenmesser), 25 Grad (Freizeitmesser) und 65 Grad (Scheren) zum Einsatz kommen, ist die Ken Onion Edition mit einer stufenlos einstellbaren Messerführung für Schleifwinkel von von 15 – 30 Grad ausgestattet. Im Gegensatz zum Standardmodell können somit auch japanische Kochmesser einfach und präszise geschliffen werden.
Während bei zahlreichen elektrischen Messerschärfern anderer Hersteller, wie beispielsweise beim Modell Graef CC120, diamantbeschichtete Schärfscheiben zum Einsatz kommen, arbeitet dieser Messerschärfer mit flexiblen Schleifbändern, mittels welchen respektable Schärfergebnisse erreicht werden.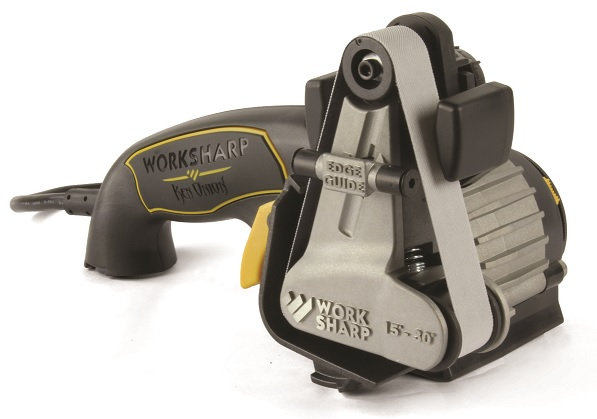 Im Lieferumfang sind bereits 5 verschiedene Schleifbänder mit folgenden Bezeichnungen / Körnungen enthalten:
P120 – sehr Grob; X65 – Grob; X22 – Mittel; X4 – Fein; 6000 – sehr fein.
In Abhängigkeit davon, welches Werkzeug oder Messer geschliffen werden soll, kommen die entsprechenden Schleifbänder in einer bestimmten Reihenfolge zum Einsatz. Eine äußerst detaillierte Anleitung dazu (DVD und Bedienungsanleitung) liegt dem Gerät bei.
Zu beachten ist, dass die Schleifbänder der Ken Onion Edition etwas breiter als die der Basisversion sind (3/4″ x 12″). Außerdem scheint bei diesem Modell das 6000er Schleifband im Gegensatz zum Standardmodell nicht mehr zum Messer schärfen gedacht zu sein, sondern dient zum Schleifen von Messern mit Wellenschliff, Spitzverzahnungen, Haken und dergleichen. Optional sind natürlich auch bei diesem Modell weitere Schleifbänder und Diamantschleifbänder in zahlreichen Körnungen erhältlich.
Für welche Messer und Tools eignet sich der Messerschärfer?
Die Verwendungsmöglichkeiten dieses elektrischen Messerschärfers sind wie bereits angedeutet äußerst umfangreich. Einerseits können unter Zuhilfenahme der Stufenlos verstellbaren Winkelführung prinzipiell alle Messer mit Schneidenwinkeln von 15 bis 30 Grad geschärft werden.
Da das gerät mit 2 Winkelführungen ausgestattet ist (eine links – eine rechts) können auch einseitig geschliffene Messer problemlos bearbeitet werden. Zudem ist noch eine weitere Führung für Scheren (65 Grad) vorhanden.
Außerdem kann das Gerät auch ohne die Schleifwinkelführungen verwendet werden um diverse Werkzeuge wie beispielsweise Äxte, Rasenmähermesser oder Schaufeln zu bearbeiten.
Ebenfalls ohne Führung werden zum Beispiel Messer mit Wellenschliff, Spitzverzahnungen oder Haken geschliffen.
Anwendung des Work Sharp Knife and Tool Sharpener – Ken Onion Edition
In Abhängigkeit davon, welches Messer oder Werkzeug geschärft werden soll müssen verschiedene Einstellungen gewählt sowie gegebenenfalls der Schleifwinkel der Messerführung eingestellt werden.
Außerdem müssen je nach Messer oder Werkzeug bzw. je nach Schleifphase die passenden Schleifbänder eingesetzt werden und die richtige Geschwindigkeit gewählt werden.
Alle diese Informationen finden sich in der äußerst umfangreichen und gut erklärten Bedienungsanleitung bzw. auf der beigelegten DVD.
Beim Schärfen von Messern unter Zuhilfenahme der Winkelführung muss zunächst der entsprechende Winkel eingestellt werden. Herkömmliche Küchenmesser werden in der Regel im Winkel von 20°, Freizeitmesser und Taschenmesser im Winkel von 25°, Hackmesser im Winkel von 30° und japanische Messer im Winkel von 15° geschliffen.
Nachdem der entsprechende Winkel eingestellt wurde, wird das Messer zuerst in die rechte Winkelführung eingelegt und an deren Außenseite angelegt. Nun wird der Messerschärfer in der geeigneten Geschwindigkeit eingeschalten, und das Messer gleichmäßig durch die Winkelführung gezogen. Im Anschluss daran wird dieser Vorgang (bei zweischneidigen Messern) auf der linken Seite wiederholt.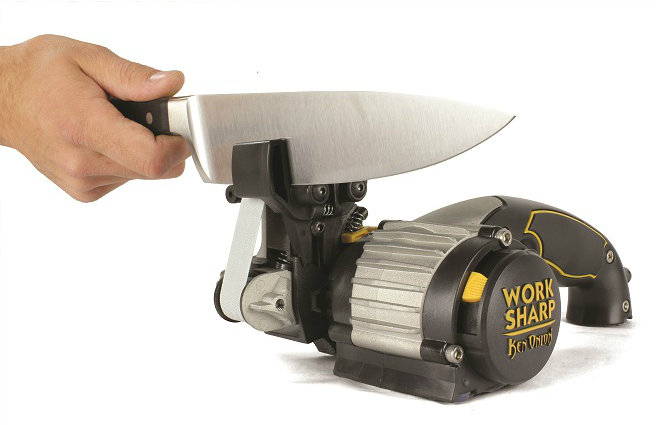 Je nachdem ob das Messer erstmalig geschliffen oder nachgeschliffen werden soll, muss dieser Vorgang einige Male mit den entsprechenden Schleifbändern wiederholt werden. Im Gegensatz zum Standardmodell bei welchem keine Geschwindigkeitsstufen ausgewählt werden können stehen bei der Ken Onion Edition 3 Geschwindigkeitsstufen zur Auswahl (Langsam – Mittel – Schnell). Empfehlungen zur geeigneten Schleifgeschwindigkeit für zahleiche zu bearbeitende Messer oder Tools finden sich ebenfalls in der Bedienungsanleitung.
Fazit
Der elektrische Messerschärfer "Knife and Tool Sharpener" in der Ken Onion Edition ist ein äußerst vielseitig verwendbarer Messerschärfer, der sich nicht nur zum Bearbeiten von Küchen- und Freizeitmessern, sondern auch zum Schleifen verschiedenster Tools eignet. Im Gegensatz Basismodell verfügt dieses Geräte über eine stufenlos einstellbare Schleifführung für Messer von 15 bis 30 Grad, eine größere Auswahl verschiedener Schleifbänder und 3 Geschwindigkeitsstufen.
Auch wenn die Bedienung der Ken Onion Edition prinzipiell etwas mehr Erfahrung oder Übung als die Standardversion erfordert, ist dieses Gerät dank der sehr ausführlichen und gut erklärten Bedienungsanleitung auch für ambitionierte Anfänger geeignet.
Produktdetails
Produktdetails
Schneidenführung stufenlos verstellbar von 15° – 30°

Für nahezu alle Messer und Werkzeuge geeignet

Schleifbänder (3/4″ x 12″)

im Lieferumfang enthalten
Zahlreiche Schleif- und Diamantschleifbänder mit verschiedener Körnung optional erhältlich
Exzellente Schleifergebnisse
Genaue und umfangreiche Bedienungsanleitung
3 Geschwindigkeitsstufen wählbar
Auch für japanische Messer und Messer mit Wellenschliff geeignet
1 Jahr Garantie